MOLLÖSUND – From the largest fishing center in Bohuslän to a friendly summer idyll
The coastal village of Mollösund lies on the southwest tip of Orust. What used to be one of the most important Bohuslän fishing centers is now a popular resort for everyone looking to escape from everyday life, enjoy great seafood and be overwhelmed by fantastic seascapes.
The village is popular with Swedish summer guests and its residents; it is one of the last real remaining fishing communities. In the summer period it is lively with beautiful bathing and aquatic opportunities. The guest harbor has over one hundred moorings and along the quayside there are cafés, restaurants and piers with outdoor refreshments.
In Mollösund there is a grocery store, a marvelous fishing shop, small museums, a restaurant that has open year round and plenty of strolling- and fishing spots. In the summertime more restaurants, terraces and small shops open, all located around the bustling harbor.
Mollösund is characterized by four landmarks – the lighthouse, the old lady, the church and the windmill – Try to find the other three while you stay in this lovely village…..
ORUST & BOHUSLÄN
Orust is Sweden's third largest island and lies in the middle of Bohuslän's coastal area. This area stretches from Gothenburg until the Norwegian borders. The coast is dotted with darling fishing villages and is world-famous for its fresh seafood.
The area is rich in history, culture and nature. Fishing, agriculture, boat building and shipping are the industries that represent modern day Orust. You may find forests, lakes and fields and some breathtaking natural sites. The vegetation is rich and varied, birds are all around and the many species of animals vary from fox to seal and from deer to crab.
CNN TRAVELER INCLUDED THE BOHUSLÄN COAST ON ITS LIST OF '10 OF THE WORLDS LAST GREAT WILDERNESS AREAS'
The seascape environment here is as spectacular as it is accessible. And what you get here are mostly calm, sheltered waters for paddlers of all skill levels. There are no strong currents or tides. The coastal line is shaped with creeks, bays, fjords, barren islands, rocky inlets and reefs; the rocks are smoothly polished by the seawater and covered in flowers in springtime. Most of the hundreds of islands that form the reef coast are uninhabited. On some of the bigger islands you will find picturesque villages.
A lot of people also visit Bohuslän in search of gastronomic experiences. With the delicacies of the sea, freshly caught fish, crabs, crayfish, oysters, lobsters, mussels and more, this is as good as it gets.
THINGS TO DO
Hiking, look out for trails, both marked and unmarked in the surrounding. Or follow one of the hiking trails in southern Bohuslän (klick here) 
Kayaking: there are two rental companies that also have guided tours   www.orustkajak.se and www.balanspunkten.nu
Bathing, two bathing areas, Katteviksbadet and Torneviksbadet. When the wind is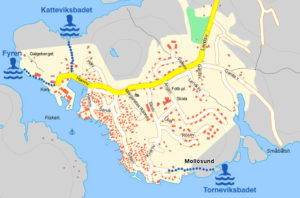 south you choose Kattevik and when the northern or northwest winds become strong you choose Tornevik. People also bathe near the lighthouse.
3 small museums, folk museum ('Hembygdsmuseum'), boathouse museum ('muse i sjöboden'), and 'Magasinet', a fully equipped grocery from a time gone by.
Soccer field, tennis court, mini golf course and boules court, open in the summer months
Fishing and boating trips, lobster fishing, seal safaris: www.hallafiske.se
Fishing and diving trips www.siriusdykochfiske.se
Rib boat tours www.ribtours.se
Sauna ('Bastuboa') in the harbor
THINGS TO SEE IN BOHUSLÄN
HAVETS HUS- Lysekil Get close to the sea and live life in Västerhavet for a while, and get close up to hundreds of fascinating marine species from the lesser-spotted dogfish to the long spined sea-scorpion. With around 40 aquariums and other exciting activities like seal safaris and beach schools, no wonder Havets Hus is one of the most popular destinations in Bohuslän!
SKULPTUR I PILANE – Tjörn Join a unique art experience. Every summer a sculpture exhibition with world-leading artists is arranged in the middle of the Bohuslän cultural landscape, with its grazing sheep and traces from the Stone Age. Sculpture in Pilane is a wild experience for all ages.
BOHUS FÄSTNING – Kungälv Spend a fascinating day exploring Bohus Fästning just outside Gothenburg in West Sweden. You will be walking in the footsteps of history here, where bloody sieges and vicious power struggles took place over the years. These days it's difficult to find a more peaceful place than Bohus Fortress, but the ancient walls still harbour memories of fierce bombardments and gun smoke.
NORDIC WATERCOLOUR MUSEUM – Skärhamn/ Tjörn Art exhibitions from all over the world, listen to interesting talks, enjoy a concert and dine well.
KÄRINGÖN – Orust Traffic-free island that changes character with the seasons Narrow streets with white wooden houses, bustling piers and swimming from smooth rocks. Käringön is a wonderful, traffic-free island in the Bohuslän archipelago that gives its visitors seaside calm and memorable experiences.
GULLHOLMEN AND HÄRMANÖ – Orust One of  Sweden's most densely populated archipelago island, Gullholmen. It has a genuine archipelago setting, complete with sailing, swimming and fishing. Close by Gullholmen's is Härmanö, a beautiful countryside with a mixture of meadows, pasture land and rocks. The other half of the town is on Härmanö, one of Bohuslän's largest nature reserves. Half-hour's walk south on Härmanö brings you to a recreational setting with heaths, flowering meadows and pasture land surrounded by clean cut forest areas and swimming coves.
CARLSTENS FORTRESS  – Marstrand Historic fortress at the highest point of Marstrandsön on the west coast of Sweden, Carlstens Fortress sits on its pinnacle. The great guardian has protected the little wooden town below for over 300 years. These days the fortress is a captivating place to visit. You can sense the fascinating past of the fortress as a line of defence and a jail for notorious prisoners, but you can also stay overnight here, go to concerts and take part in other events.
LISEBERG – Gothenburg The largest amusement park in Scandinavia with dozens of rides and attractions, hundreds of thousands of flowers, huggable rabbits, food, drink and entertainment on stage – in short, Liseberg Amusement Park has something for everyone. The location is perfect too, in the centre of West Sweden's largest city.
FJÄLLBACKA – Tanum Famous views over a genuine archipelago idyll with sea winds and wonderful summer nights. Ingrid Bergman was among the many people who have enjoyed the calm of the island. The author Camilla Läckberg has a special affinity for Fjällbacka, which is a backdrop in her detective novels about the Fjällbacka murders.